In this section...
Big Garden Birdwatch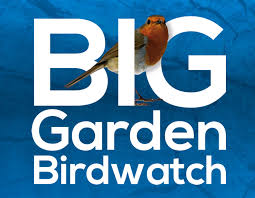 The RSPB Big Garden Birdwatch
Big Schools' Birdwatch is back bring nature to you.
Join thousands of people taking part to see the drama unfold on your doorstep.
Taking part is easy
Spend an hour counting the birds you see in your garden or from your balcony, then tell us what you saw. It really is that simple!
Instructions
Pick a time -You can choose any hour between 29 and 31 January. So whether you're an early bird or a night owl, you can still take part.
Tell us what you see - Count the birds you see in your garden or from your balcony*. Ignore any birds that are still in flight. To avoid double-counting, just record the highest number of each bird species you see at any one time – not a running total.
*This year the advice is to take part in the safety of your own home. This could include a birdwatch from your window if you overlook a green space or courtyard.
Submit your results to the school, either by dropping off your findings at school or taking a picture of your results and emailing them to Mrs Blincow on Purple Mash.
Every count is important so, if you don't see anything, please still submit your result. Finding out which birds don't visit your area is as important as understanding those which do!
New this year, experts from across the UK will be bringing you photos, footage and facts about the birds they see, as well as answering any questions you may have.
Plus, there'll be live quizzes, and familiar faces throughout the weekend – all set to make this the best Birdwatch ever!
From 11am on Thursday 28 January, you will be guided through data handling in maths and classification in science with the BBC Teach team, Winterwatch presenters and the RSPB's education team.
St. Mary's have signed up for this fantastic event. Below is a link to the webpage which contains lots of information and links to activities. Also included are some activities which you can do before and during the live 'Birdwatch' event.
https://www.bbc.co.uk/teach/live-lessons/big-schools-winterwatch-live-lesson/zv8vn9q?utm_source=&utm_medium=email&utm_term=&utm_content=18&utm_campaign=
Please let us know what you have been getting up to. Have fun.